Parents: We will be holding virtual parent/teacher's conferences on Tuesday, October 5 from 5-8pm. Please see the document linked on the homepage of our website for a list of zoom links. It will also be posted on our Facebook page.

Public Health will be contacting close contacts today for the cases that were identified in the last 24 hours and associated with our school. Per state law, quarantine is a recommendation, not a requirement for close contacts. With the increase of positive cases at Powell County High School, we are asking that anyone who is exhibiting ANY of the following symptoms to please stay home: fever, nausea, fatigue, headache, and body aches. We will be sending students and staff home who exhibit symptoms of illness.

Please see the attached.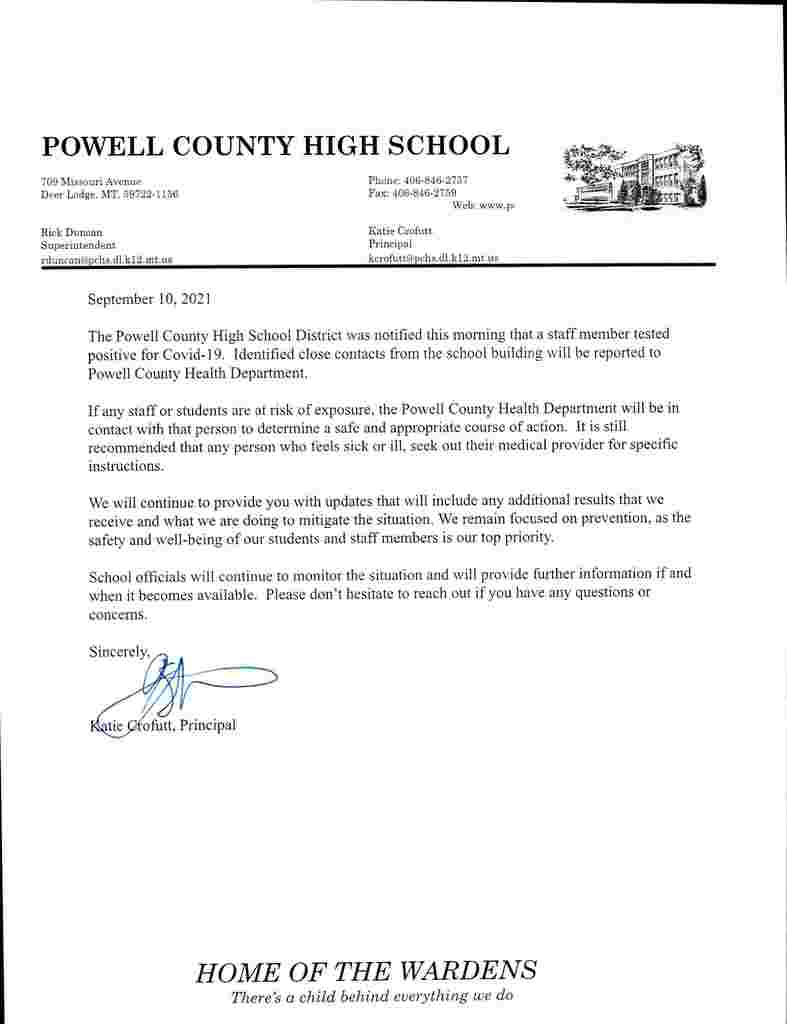 Please see attached notification. Parents: please continue to keep your child home when they are ill. We so appreciate those of you who have been diligent with this!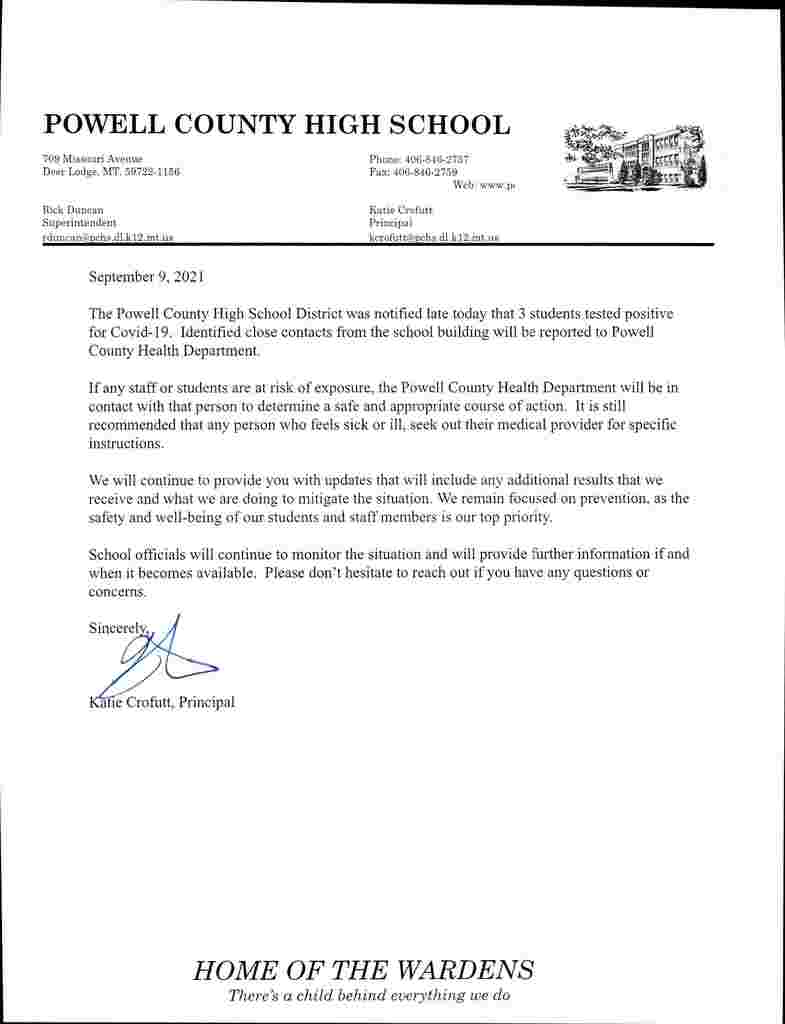 Please see attached. Parents, thank you so much for keeping your children home when they are sick and helping to mitigate the spread. We hope this little spike in cases won't last long.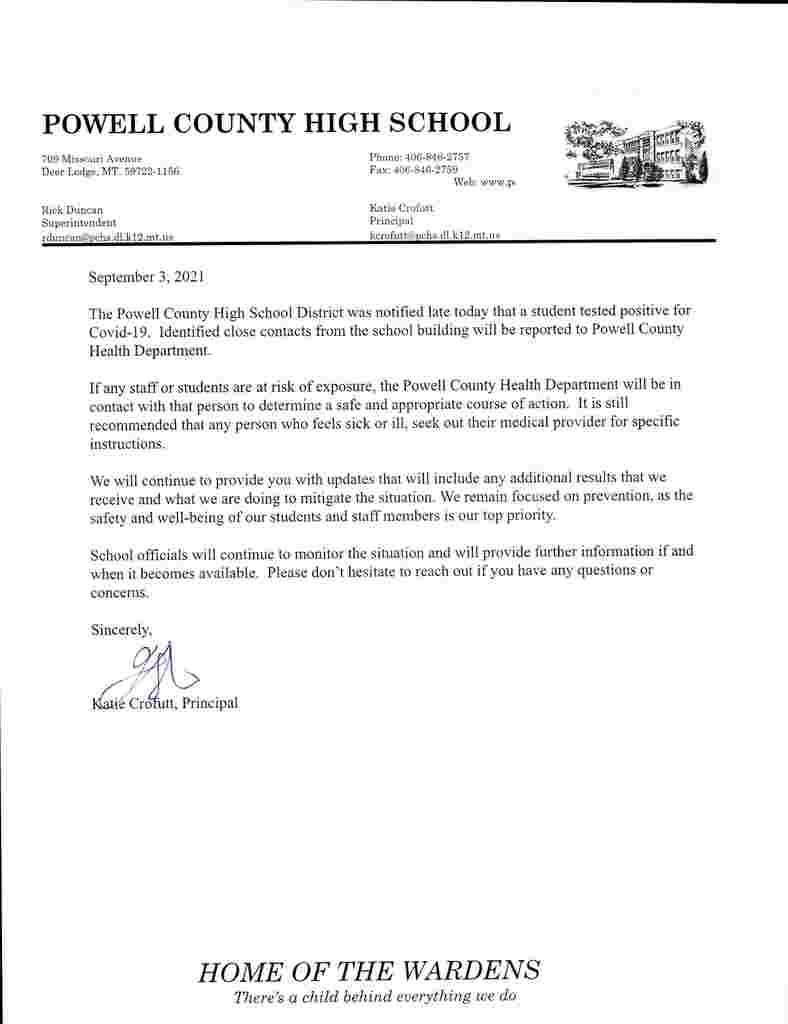 See attached notification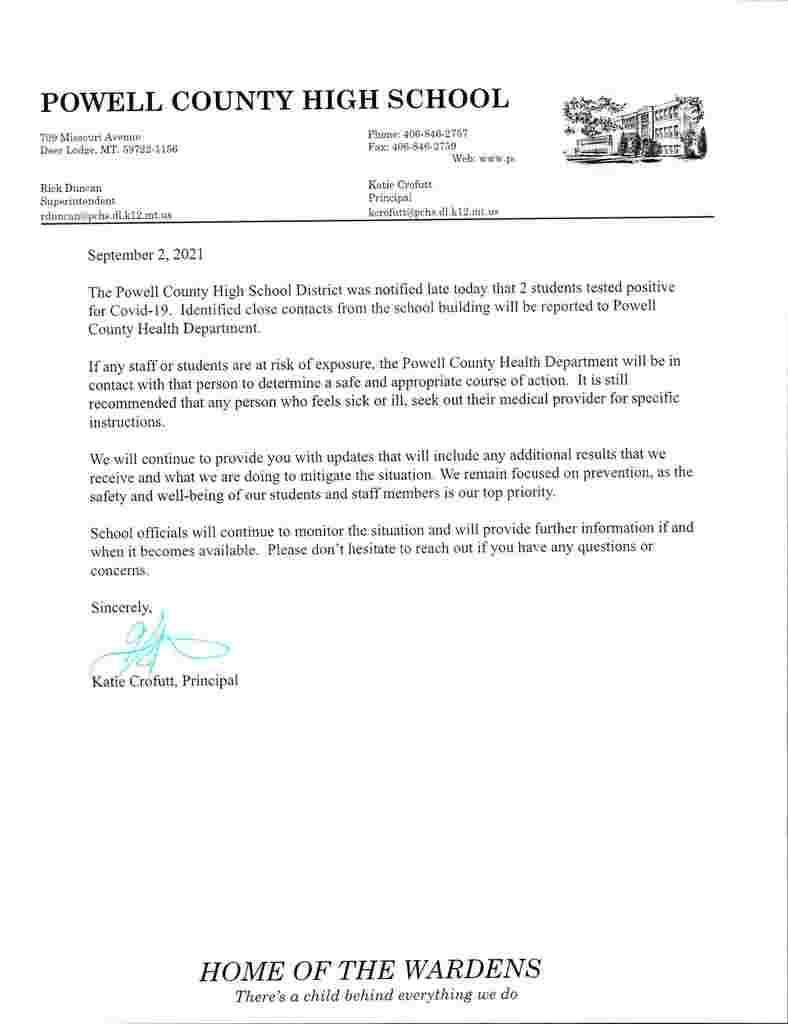 Please see the attached notification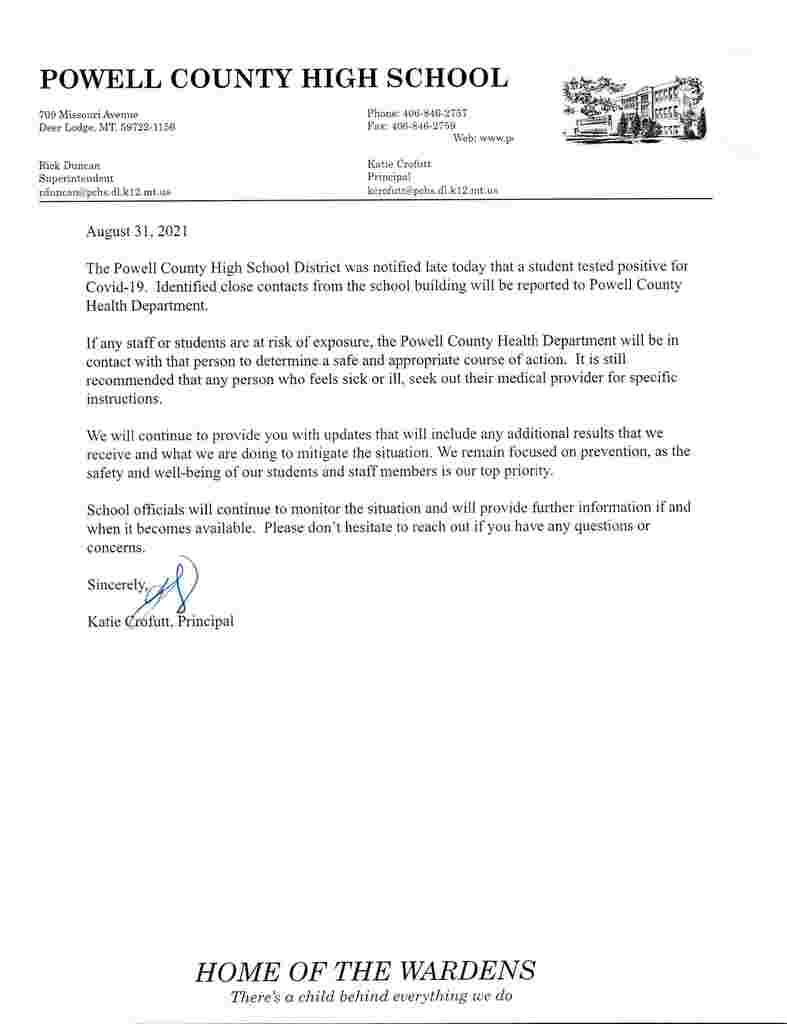 To All Coaches, Parents, & Students Per Executive Order 13998, masks are required on all public transportation. School and activity busses are considered to be public transportation and so masks must be worn at all times, except while eating, drinking, or experiencing shortness of breath. We ask that coaches and students prepare to follow this requirement. At this time, masks are still optional in the school building and on school grounds, so this executive extends order only to busses. Thank you for your cooperation and understanding. Please reach out to the school with all questions 406-846-2757

Juniors and seniors interested in additional dual credit courses, please contact Mrs. Crofutt ASAP. Available courses are Intro to Business, Web Design, Exploring Digital Photography, Intro to Sociology, Intro to Statistics, and College Writing. Courses are filling up quickly so please call, email, or stop by the school to get signed up.
kcrofutt@pchs.dl.k12.mt.us
406-560-3027

The Powell County High School District is seeking interested candidates from the Deer Lodge District to fill a Trustee vacancy position. Interested candidates shall submit a letter, or email, of interest to the PCHS Board of Trustees, through the Superintendent's office by 5:00 PM, on June 28, 2021.

If anyone in the Powell County Community is interested in buying tickets for the Warden games at the Class B State Basketball tournament, you can contact
jlogan@pchs.dl.k12.mt.us
for more information. MHSA has requested that the school specific link and code not be released to the general public.

Boys State B Bracket

There will be a parent meeting Tuesday, March. 9th at 5:30 PM in the high school gymnasium. This will be for athletes, and their parents, that are interested in participating in softball, track, or golf. This meeting is mandatory so please do your best to be there or make arrangements with the head coach.

The Powell County Public Health Board voted Monday, March 1, 2021 to not enact the mask mandate in Powell County. Accordingly, the Powell County High School District will no longer require masks for students or staff. However, individual teachers may require masks be worn in their classroom or designated area. With the absence of a countywide mask mandate, the Powell County Public Health Officer will quarantine an entire classroom of students should a student or staff member test positive for COVID-19, regardless of social/physical distancing. PCHS continues to recommend mask wearing, and the practice of all safety measures while in school and at school sponsored events.

PCHS will be holding virtual Parent/Teacher Conferences on Tuesday, March 2 from 5:00 until 8:00 p.m. Teachers will be sending Zoom links to parents and students. If you cannot attend on March 2, please contact the teachers to make alternate arrangements.

Girls Divisional Bracket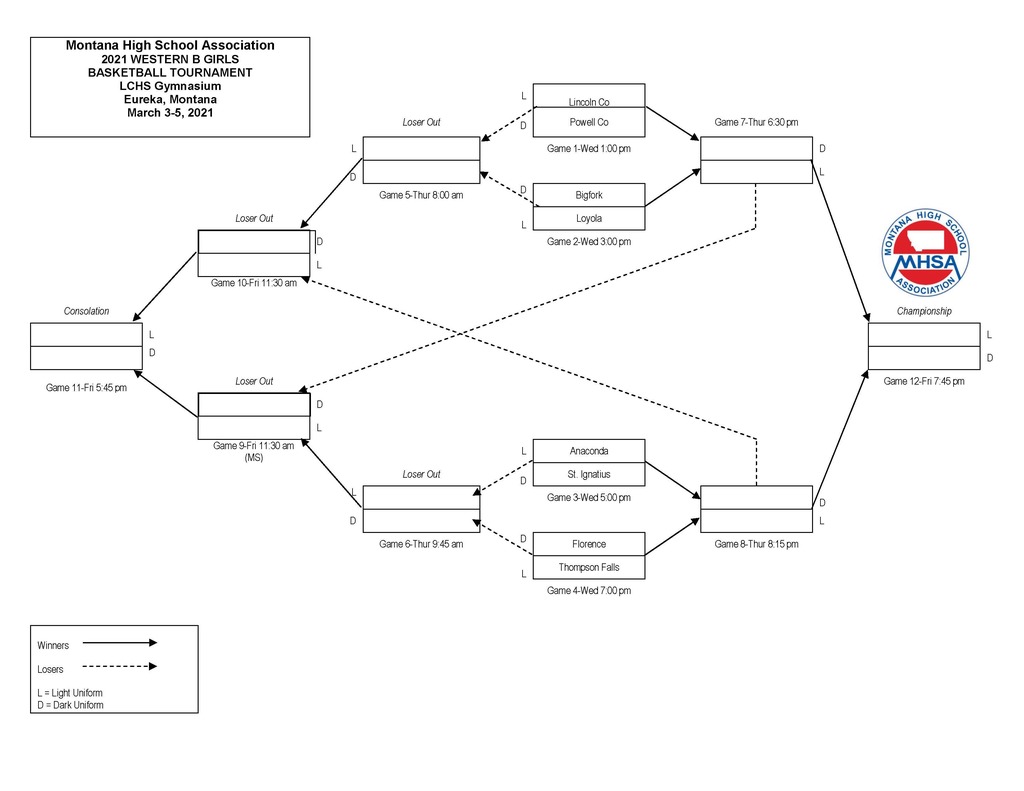 Boys Divisional Bracket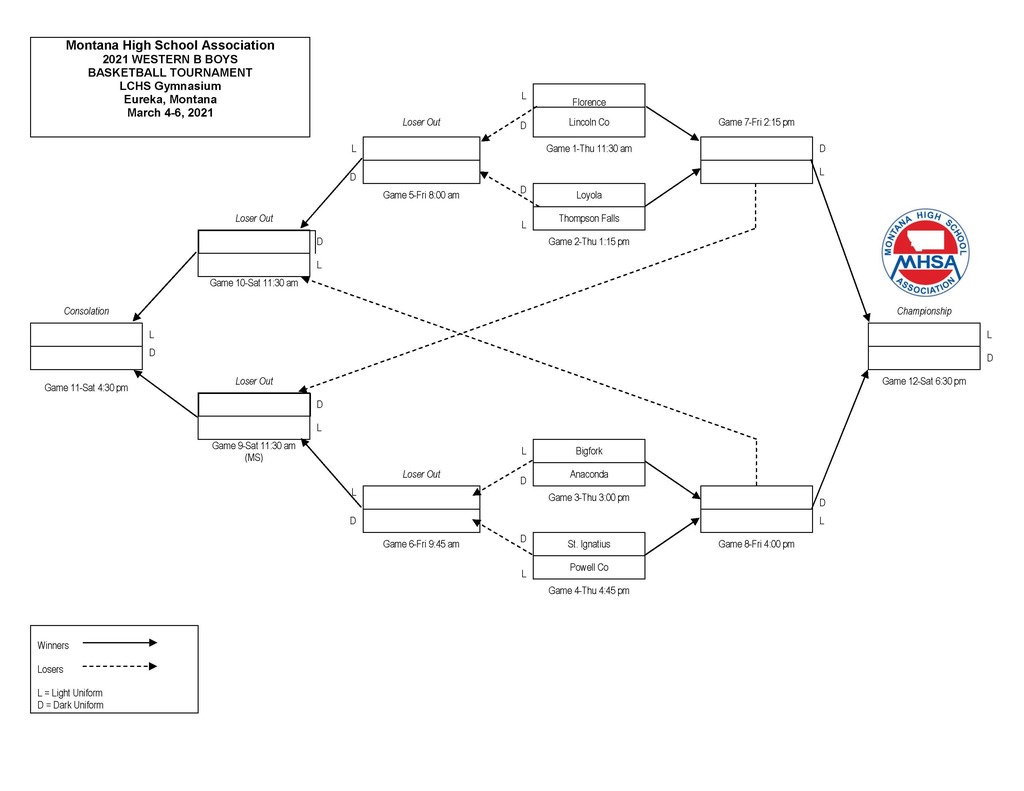 The spectating policy at Florence is 4 tickets per athlete and 2 per coach and manager.

The times for the basketball games in Florence on 2-19 have changed. Boys JV is at 3:00, Varsity is 4:30. Girls JV is at 6:30 and Varsity is at 7:30

The times for the boys basketball game in Loyola today, Feb 6th have changed. JV will play at 2:00 and Varsity at 3:30.