The Wrestling meet in Mission is CANCELED for tomorrow (1/28)
Today's Basketball games in Arlee have been re-scheduled for next Tuesday, January 31st. The times will remain the same.

Due the the extreme weather warning forecast tomorrow, and as a precautionary measure in the safety of our students and staff, Powell County High School and the Deer Lodge Elementary Schools will be closed tomorrow, Wednesday, December 21. School will resume on Tuesday, January 3. PCHS will also not have any practices on Thursday, December 22. Enjoy the holiday break. Merry Christmas and Happy New Year to all. -Mr. Duncan
The Wrestling Meet at Florence tomorrow has been CANCELED. Also, the Basketball games vs. Florence tomorrow have changed: C-squad Boys @ 3pm -- JV Boys @ 4:30 pm -- Varsity Girls @ 6 pm -- Varsity Boys @ 7:30 pm
Tip Off Tournament Schedule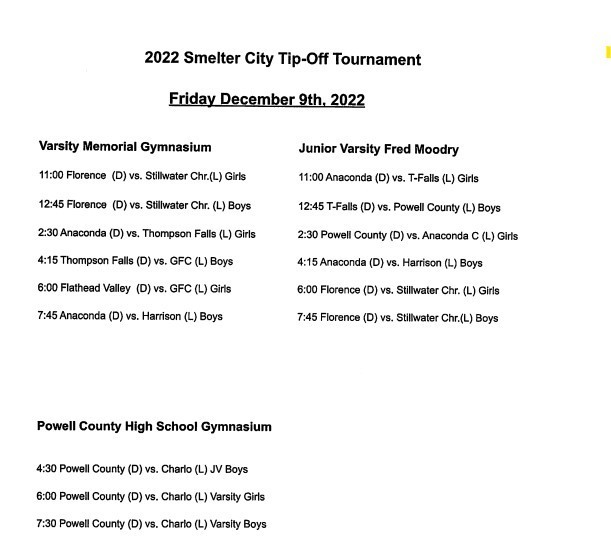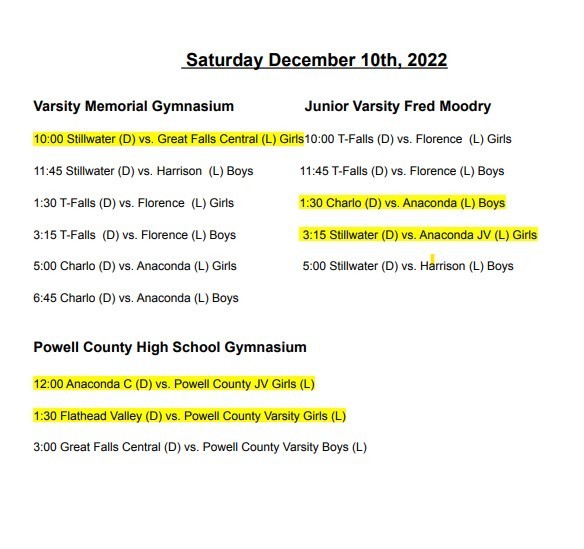 This Friday and Saturday, the Smelter City Tip-Off Tournament will be held in both Anaconda and Deer Lodge - just a reminder that PCHS Activity Tickets will not work at this event.
A reminder that we have a 1:30 early out Wednesday, November 9 for staff development. There will be supervision available for students who ride the bus.

Staff and students: the parking lots and sidewalks are very slippery this morning! Please use extra caution when entering the building.
Reminder that Finals begin tomorrow! Finals for Periods 3 and 4 will be Thursday afternoon, with regular classes Thursday morning (during periods 1 & 2). Finals for Periods 1 & 2 will be held Friday morning (the 28th). There will be an Early Out for all students at noon on Friday (after finals). Busses will run at the regular time. Supervision for bus students will be in the gym.

Hello students & parents, here are some important dates to note: October 20 & 21- No School October 27- Periods 3 &4 finals (held during periods 3 & 4, periods 1 & 2 will be regular classes) October 28- Periods 1& 2 finals (held during periods 1&2) Early Out @ noon (busses will run normal time and supervision will be provided for bus riders, lunch will also be available at our normal time) End of Quarter 2/ Semester 1 October 31- Eligibility run for quarter 2 November 6- Daylight Savings Time Ends November 7- School Board Meeting @ 6:30pm in the HS board room November 8- Winter Sports Parent Meeting @ 6pm in the gym November 9- Early Out @ 1:30 (supervision provided for bus kids) November 11- Veteran's Day Reception @ 10am- Please help us spread the word to all veterans! For a full list of events, please check out our events calendar & the weekly warden.

A reminder that we have a 1:30 early out today for staff development. There will be supervision available for students who ride the bus.
There will be an Early Out on Wednesday, October 12th at 1:30 p.m. Busses will run at the regular time but supervision is provided for any bus students who need to stay at the school.

A reminder that tomorrow is college application day for seniors! All seniors are required to be at school for 3rd & 4th period( unless excused by a parent). Parents, please send your child's social security number with them so that they can complete the application. Also, we have FAFSA night for seniors and senior parents on Tuesday night @ 6pm in the library. Parents, if you bring your 2021 tax returns it would be helpful. Please Mrs. Crofutt know if you have questions.
To order photos from Inter-state.com, the code for the High School is 69436HB. There are also paper flyers available at the main office.


Tomorrow is picture day! We have paper fliers on the office with ordering instructions, so students are welcome to come and grab one of those.

Parent/Teacher's Conferences are on October 4 from 5-8pm. We are doing both in-person and zoom conferences this fall. Please go to this document to access the zoom links and links to schedule either in-person or zoom meetings with teachers. Not all teachers are using a scheduler, so if you don't see a scheduler link than that teacher is accepting walk-ins in person and on zoom. If you have questions, please contact Mrs. Crofutt.
https://docs.google.com/document/d/1MS1HWCqbBXUSwHbgWTzhpXWxpXbchsaDQ-NXb-99aAA/edit?usp=sharing

The football game on Monday will be played in Simms. The game starts at 4pm.

Lockdown drill has concluded.

PCHS is currently running a lockdown drill. There is no threat.