October 3rd PCHS is holding Parent/Teacher's conferences from 5pm-8pm. We encourage in-person attendance, but if you are not able to come in person and would rather zoom, here is a document with zoom links for each teacher:
https://5il.co/2608k
Tomorrow, September 20th, is an Early Out at 1:30 pm. Busses will run at that time!
Town Hall Meeting Schedule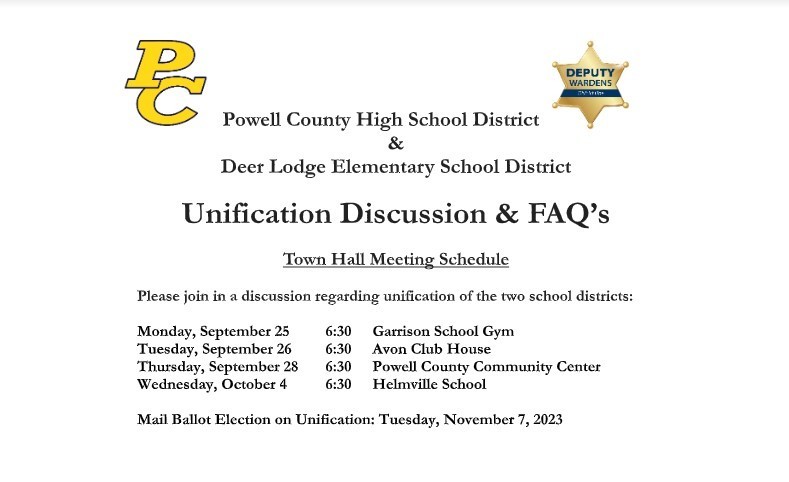 Good morning parents, we have exciting news! Rather than having you do sheafs of paperwork each year, we are partnering with FinalForms and you will be able to quickly do all of your paperwork online. We are trying it out with just sports paperwork this year, but if it does what we hope it will, then we will move all of our school paperwork to this platform. Please take a second to create yourself an account and do your child's sports/activity forms. We will be using this for winter and spring sports, and you can go on and do your paperwork anytime prior to these seasons. Here are the links to the account creation playbook, intro letter, and website.
https://powellcounty-mt.finalforms.com/
https://5il.co/24xs2
https://5il.co/24xs1

Hello! We will have picture day right away in the morning on October 11. There are no order forms, you just go online to
https://inter-state.com/Home
and click "order". Enter code 78132EF to find out school.
Reminder that today is a long lunch from 11:24 - 12:24! The final bell rings at 12:24.

2023 Graduates: We have your yearbooks in the office! Please stop by or have someone stop by to get yours! We will hold on to them for a few weeks, but after that they will be re-homed. Please grab yours as soon as you are able!

Parents and fans: we have our first home football game of the season on Friday night! We won't be allowing kids on the field or track during the game, so please keep them in the stands with you. Thank you!


Today is the day! 3-5pm is the time for grades 10-12 to bring their paperwork in to school and to pick-up their Chromebooks. Schedule changes, activity tickets, and any other fees can all be taken care of during this time too. At 5:30 we will have Freshman Orientation that will include burgers/hotdogs and all the fixings along with a presentation on entering high school, tours, device pick-up, and anything else that needs to be done before the school year. The majority of our teaching staff will be there so you can meet your teachers. See you there!

Good morning! Our office is officially open for the school year. We will have someone in the office from 8-3:45 each business day. We also have our Fall Sports meeting tonight at 6pm that all fall sport athletes and parents need to attend. We will have this in the school gym. See you there!

The bus that is hauling the kids on the REACH trip is stuck in track due to a wreck on the interstate. They will be late coming back and at this time I don't have an estimate when that will be. If you don't have cellphone communication with your child, please let me know and I will make sure you know when the bus is back. -Principal Crofutt 406-560-3027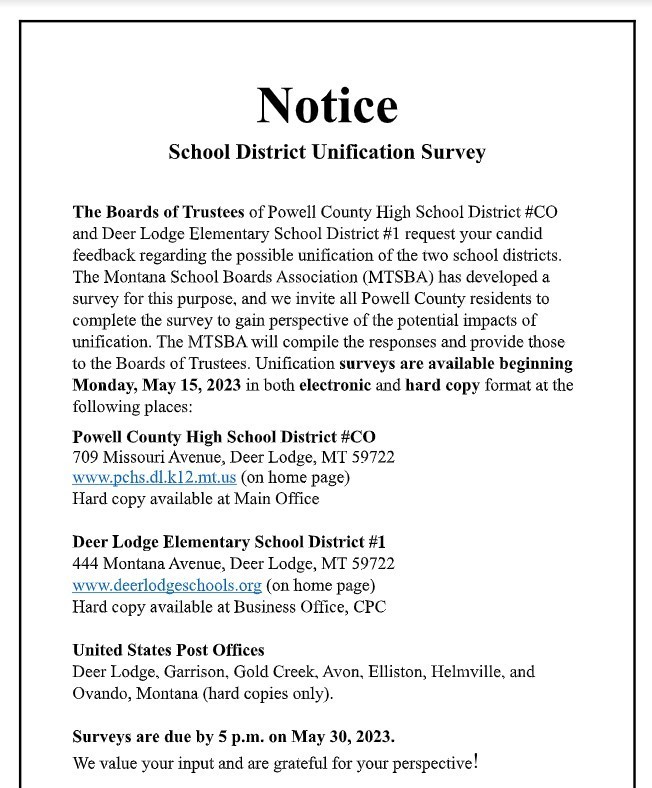 Today's Softball game has been canceled!

We have been having an issue with our email servers over the last few days where emails sent to our school emails or from our school emails are sometimes getting bounced back. Our techs are working on it and we hope to have it resolved soon! If you have been trying to reach a school employee, please call the office at 406-846-2757
Both the Track Meet and Softball Games today have been canceled due to weather.
Today's home Softball game has been cancelled. The game will be re-scheduled for a future (hopefully more pleasant) day!

Hello juniors and parents! Thursday all juniors will be taking the ACT. Your student received a booklet with some things they needed to do ahead of time as well as rules for the testing session. Here are some general rules so everyone is prepared: 1. Bring your Chromebook fully charged with you on Thursday. Please also bring your charger in case you need it. 2. We will be testing on the 2nd floor and no cellphones, smart watches, or other electronic devices (except for Chromebooks) will be allowed on the 2nd floor. Your child is encouraged to leave all of those devices locked in his or her car or at home. 3. We will provide snacks, juice, and water. Students are welcome to bring other food and water, but it must remain in the hallway and not in the testing room. 4. I will release all juniors after our testing is complete for the day (around 1pm). If you do not want your junior released, please let me know by the end of the day on Wednesday (April 12). 5. Only certain calculators are allowed for the math portion of the test. Please refer to the booklet your child was given and ensure that their calculator fits. We will not allow calculators into the room that are not approved. 6. All students must be here and in their seats by 8:15 7. The front door will be locked and we will not allow outside visitors into the building. If you need something, please call the office 856-2757 If you have any questions, please contact Mrs. Crofutt!

PCHS is currently running a lockdown drill. There is no threat.
After Finals on Friday, school will be released at 12:00 p.m. Busses will run at the regular time, shortly after 3:11 p.m. If you would like your child to have supervision at the school from noon - 3:11, please contact the school by Friday morning at 406.846.2757 Ext. 210. Thank you!