The Basketball Games against Arlee have been postponed to a future date and time due to the weather and the roads. Future date and times are TBA.

Over the last several days, PCHS has been notified of 4 positive Covid cases amongst our students and staff. Public health has been working on notifications of close contacts. Per Montana State Law, close contacts can choose whether they isolate or not. We so appreciate families that have kept their child or children home when someone else in the home tests positive. Please be extra vigilant with monitoring symptoms of illness in your child. We are hoping to not have to switch to remote learning and need your help in keeping our school healthy.
Tomorrow's basketball games at Thompson Falls are STILL ON!
Tonight's game against Loyola has been postponed until a future date. Future game date and time TBA.

Parents, as we enter the most critical time of the year for cold, flu, and now Covid; please be extra vigilant for signs of illness with your child. We will be sending kids home who are exhibiting signs of illness as we want to ensure that we can stay healthy and in session. Thank you!

Correction: the early out is on January 19th, not January 20th!

Parents: PCHS will have semester finals for periods 1 & 3 on January 19th & periods 2 & 4 on January 20th. If your child has an A for the semester in a year-long (one full credit) class and has been given clearance by their teacher, they do not need to attend that class for the scheduled final. Also if they have a study hall during a scheduled final time, they are not required to attend. It is important that your child has received verification of their status from their teacher ahead of time. We also have an early out on January 20th @ 2pm. Busses will run at the normal time, and we will have supervision for students waiting for busses.

There will be no busses running today

Powell County High School would like to thank the Deer Lodge Police and Powell County Sheriff's office for providing extra security for our students today. We want to reiterate, threats have been made nationally, not locally and we are just exercising extreme caution.

Update on times/places for the Basketball games in East Helena tomorrow (12/3): C-squad Boys will play at 3 p.m. at Prickly Pear Elementary (East Helena), JV Girls will play at 3 p.m. at East Helena HS. JV Boys will play at 4:30, Varsity Boys will play at 6 p.m. and Varsity Girls will play at 7:30 p.m., all at East Helena HS.
Picture Re-takes will be November 29th! Also, December 1st there will be a 2:00 Dismissal. Busses will run at the normal time.


Please see attached
We have many Wonderful Wardens this week! Congratulations to all of these students: Jocelyn Birch, Jeremiah Davis, Rhylie Filcher, Orrin Hansen, Vivin Hansen, Brody Hunter, Katie Johnson, Lexi Lunceford, Harley Molendyke, Gwynn Morgan, Graci Pennington, Anthony Porter, Maddie Schrecengost, Katie Waite, and Amanda Wheelock. Keep up the great work!
Congratulations to our Wonderful Wardens this week! Ashton Bledsoe, Elianah Grande, Clara Graveley, Alesea Smith, and Natalie Spring. Way to go!

Sorry about the bad settings! Please try again to take our eligibility survey. Again, this is for parents of current PCHS students only. Thank you for your help!
https://forms.gle/GAufLt51kdMpxycz8

Please take a minute to give us your opinion on a change to our eligibility policy for next year. This survey is for parents only. Student and staff were sent separate surveys. Thank you for taking the time to help!
https://forms.gle/e1CwHV6ULTnusTBK6
There will be a play-in Volleyball Game against Arlee tomorrow evening (10/26) at 6 p.m.

Please see the attached COVID notification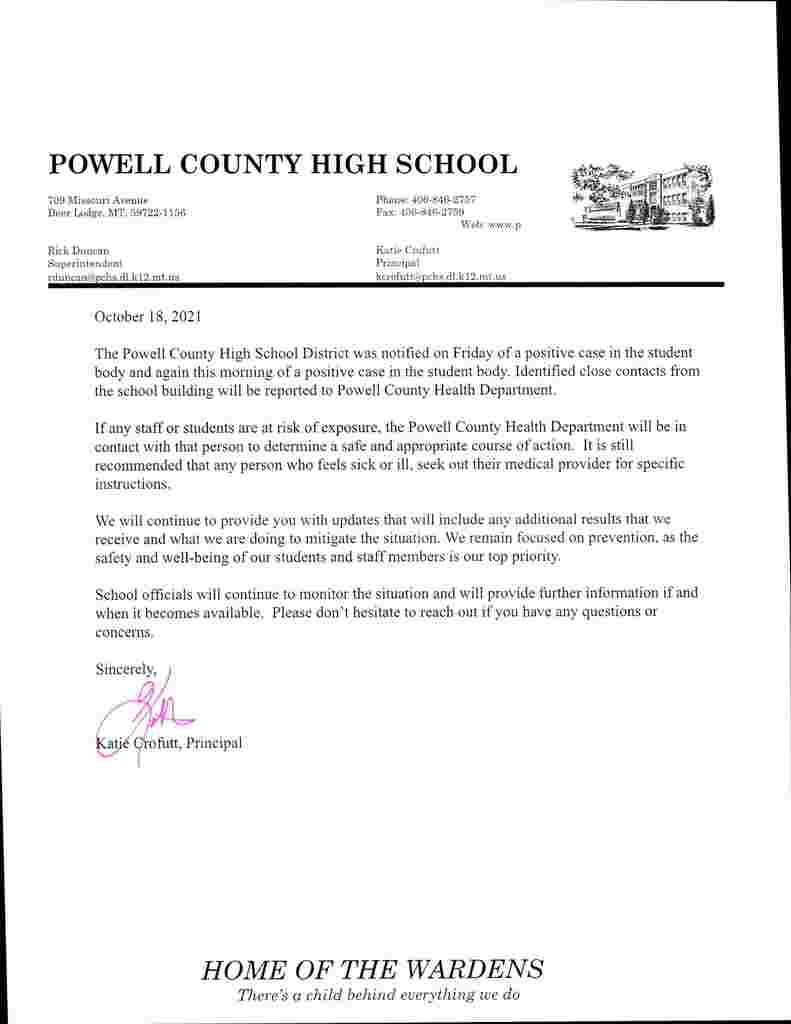 Picture Day is Monday! Go to inter-state.com to order. School code is 64306SA. Teacher is the student's 1st period teacher.