There were lots of questions after Friday night's football game regarding the placement of our home bench. Coach Verlanic has chosen to have the bench there for the season in order to change things up and to remove distractions and help the boys focus. Having a new perspective can sometimes make a huge difference!

All outdoor activities are canceled today due to poor air quality. Practices may still be held indoors.

Due to the current degraded air quality, outdoor practice tomorrow will be limited to one hour This is a changing situation, so please stay tuned for further updates.
Parents: We will be having a lockdown drill in September. This week teachers are preparing their classes by having discussions on the procedures and expectations during a drill. Students have also had the opportunity to ask questions and to work through possible situations. This is a topic that none of us wish we had to address, but ensuring that our students and staff are confident in what they need to do in case of an emergency is crucial to everyone's safety. There is a possibility that some students may experience trauma or panic when going through a drill, and our hope is to minimize that through good discussion and preparation. If you have any questions or concerns, please contact Principal Crofutt.

Today is the day! Parents, you should get an email from Infinite Campus today with your activation key and link to create a parent account. If you need help, here is a video that walks you through the steps.
https://kb.infinitecampus.com/help/getting-started-with-campus-parent-and-campus-student-video#
-If you did not get the email, please email
kcrofutt@pchs.dl.k12.mt.us
with the address you would like and we will make sure your email is correct in Campus -Students, you have an account already created for you that you will get the login for when you pick-up your device either at freshman orientation on August 8 or at device pick-up for grades 10-12 on August 15. Note: you must have all of your paperwork turned in in order to get your device.

Hello parents! We are in the process of switching our student information system from Tyler to Infinite Campus. On July 29th, you will receive an email with the instructions on how to make an account so that you can see your child's schedule, grades, etc. We will use the emails that we had for you last year, so if something has changed, please email Mrs. Crofutt at
kcrofutt@pchs.dl.k12.mt.us
ASAP to have that changed in our system so that you receive the email. You can also email with any questions or concerns that you have. Thanks!

The Clean-up day on Tuesday, May 31st is still on! Students, please wear close-toed shoes and long pants (no shorts, please). Dress for the weather! Lunch will be provided!
There are a few DVD's remaining from the recorded 2020 Graduation Ceremony - please stop by the PCHS office if you are interested in having a graduation DVD from 2020.

Tonight is our Senior Showcase at 6pm in the gym. Please come and hear what our seniors are planning to do next!
The Trustee election results are as follows: Amanda Bohrer - 346 votes Don McDermid - 235 votes Rodney Simpson - 175 votes David Williamson - 101 votes
Notice of Annual School Election - May 3, 2022
The Home Golf Meet today has been cancelled due to the weather.

Attention parents: Prom is happening this weekend! Ticket sales and signing up an out-of-school date have concluded and we won't be selling any more tickets or allowing out-of-school dates that haven't already been approved. Grand March will be at 8:30 pm and due to limited space at The Pen, we will have a Facebook Live instead of allowing spectators. Please join us on our FB page at 8:30 to see the kids in all of their fancy clothes and to see the crowning of our King & Queen.

We will have a Senior Showcase night on May 12th @ 6pm to celebrate our seniors. Please join us to hear what they are doing next in life! Refreshments will also be provided.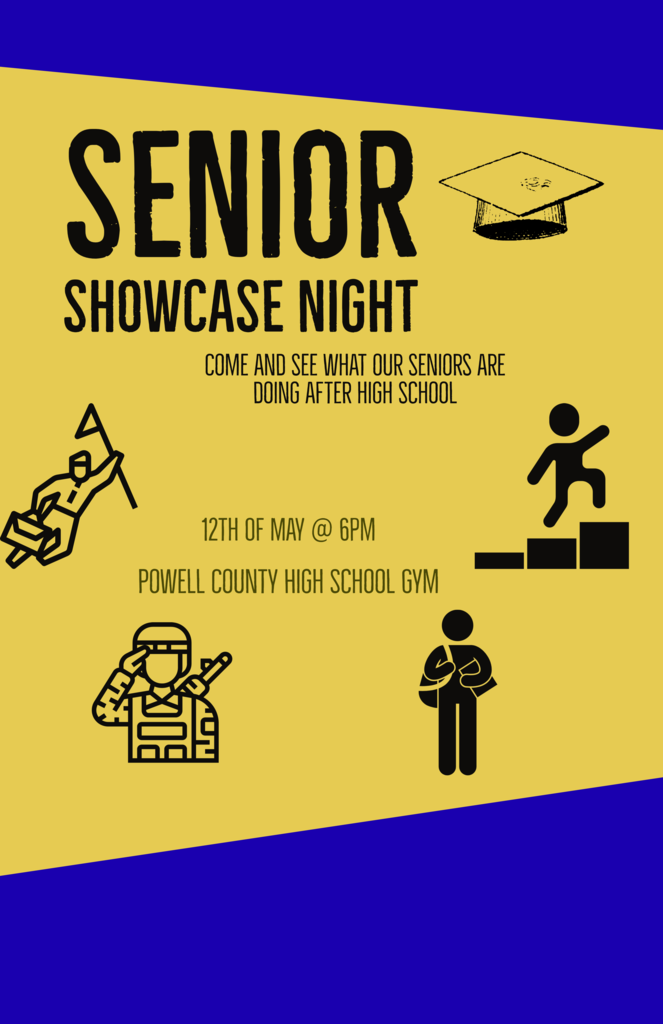 We have been advised that we can resume normal activity. We are ending our lockdown and students are being released for lunch. We will allow students to be at lunch until 12:15 today to make-up for the time lost.

Powell County High School has been advised by law enforcement to go into lockdown due to a potential active shooter in the area. Please stay tuned for updates.
The Softball game tomorrow (4/14) @ Thompson Falls has been cancelled
The Softball game @ Anaconda tomorrow (4/12) has been cancelled and the Golf meet @ Bigfork on Thursday (4/14) has also been cancelled.

Parents, your child will be receiving a passive permission slip tomorrow in their 2nd period class for the PNA survey. You do not need to sign and return this slip unless you do not want your child to take the survey.